CBFS Sync
A Cross Platform Library enabling seamless synchronization between local filesystems and cloud storage or other remote repositories.
Download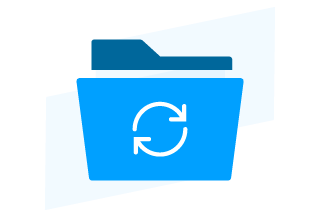 Synchronize Local and Remote Storage
Easily implement bi-directional file synchronization using the same OS infrastructure used by Microsoft OneDrive and other utilities. An event-driven API allows you to monitor local files and folders in real-time, enabling seamless integration with popular cloud services, file repositories, and other applications.
CBFS Sync provides a native experience, utilizing the operating system's icons and indicators. Streamline development with a unified, cross-platform API built on industry-standard technologies: Cloud Filter API on Windows, FUSE on Linux, and File Provider on macOS.
Available in multiple languages, including .NET, Java, C++, and Go.
Comprehensive Features for Maximum Flexibility
Local Folder Monitoring
CBFS Sync monitors local folders for changes and initiates the synchronization process when changes are detected, firing events as necessary.
Asynchronous Operation
The CBFS Sync API is asynchronous by nature, simplifying development and allowing for high efficiency synchronization operations.
Cross-Platform
CBFS Sync currently runs on Windows (Intel and ARM), Linux, and macOS. Support for mobile platforms (iOS and Android) is in active development.
Unified API
CBFS Sync wraps CfAPI on Windows, FileProvider on macOS, and FUSE on Linux with an easy-to-use intuitive API, simplifying and streamlining development.
Components
The following components are included in CBFS Sync.
Included Demos
The following demos are installed with the product. Please Download the trial to get started.
Local Sync
Shows how to synchronize a local folder to another locally accessible folder.
Platforms: Delphi, Go, Java, .NET Framework, Python, C++, Visual C++